Lankathilaka Rajamaha Viharaya
Lankathilaka Rajamaha Viharaya is situated in Rambegamuwa village in Kandy District, Sri Lanka. There are 116 kilometres from the main city of Colombo to this temple. Lankathilaka Rajamaha Viharaya was a ancient temple of Gampola Period. This temple was built by king Buwanekabahu iv in the period of 1341-1351 AD. This project was conducted by minister Senadhilankara. The main architecture of this temple is Istapthirayara in south India.
Lankathilaka Rajamaha Viharaya
There is South Indian architectural style in this building. It is combining both Hindu and Buddhism. The temple was based on a new approach. It is said that this image house was constructed as a four-storied mansion with a height of eighty feet. But today there is only two flour. This temple was redeveloped by king Parakramabahu vi in the Kotte period. At that time the roof was built wooden.
There are the carvings of elephants and pilers thick outer walls of the temple. This temple has two entrances. The main sector in the eastern sector that Buddha image houses area. The next entrance is to the temple of the god. There are both Sinhala and Tamil inscriptions cut into the rock surface on the temple premises. It was described the facilities offered by the temple. There are five small Devala together in the shrine room. It is for God Saman Vibeeshana, Upulwan, Katharagama and God Ghana. It is for Hindu devotees.

Lankathilaka Rajamaha Viharaya
There was a Makara Thoron in Infront of the door of the shrine room. as like this, there is another one in the shrine room on the main Buddha statue. It was the largest Buddha statue in this temple under the Makara. The seated Buddha statue encompasses the unique style of Buddhist sculpture of the period. Its position knows as the Dayana Mudra. The body is painted in gold while the robe is red in colour. The eyes of the image were wide open.
There are two standing Buddha statues in the shrine room while there was a red Handun wooden buddha statue. The wall and ceiling are completely covered in beautiful paintings. The paintings depict the lives of the 24 former Buddha. The ceiling was decorated with an abstract flower design. It seems to Kandyan period art style. The King Keerthi Sri Rajashingha, Minister Senadhilankara, and suevisi vivarana paintings are mainly among them.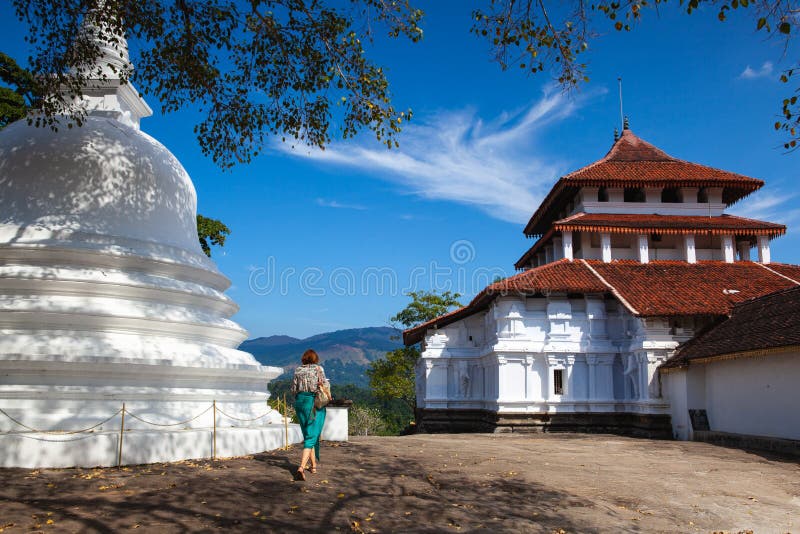 Lankathilaka Rajamaha Viharaya
There are two other buildings on this site. The god Dedimunda Devalaya is one of them. The stone traditional Sandakada Pahana is also here entrance of the building. Lankathilaka temple is one of the cultural heritage of Sri Lanka.