Kataragama
Kataragama is a holy place located on the bank of the Menik river. It is in the Uva province and comes under Monaragala District. There are 228 kilometres from Colombo to Kataragama. Kataragama is known as Kacharagama in the historical period.
Kataragama is considered a multi-religious place. The followers of all religions in Sri Lanka visits Kataragama and prays their respect. There is a church, Hindu kovil, a mosque and a temple known Kirivehera in this place. Among them, a very special place goes to Kataragama devalaya. It has a long history also.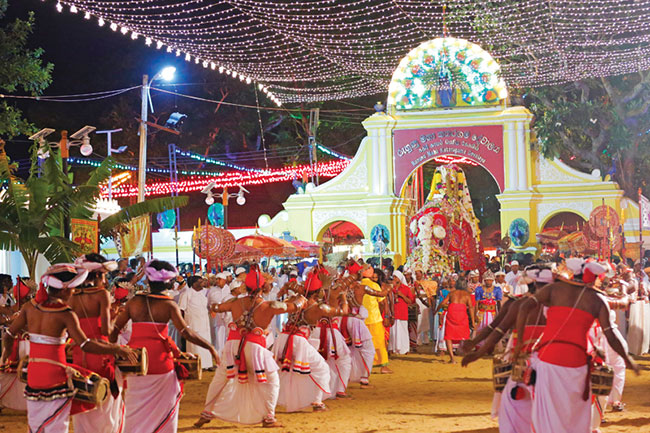 Kataragama Sri Lanka

It is said that the Kataragama devalaya was built by King Dutugamunu's reign. People from south India also come there to worship. Kataragama god is known as Murugan by the Tamil people. Somebody says he is Skandakumara. how can they offer fresh fruits to God Katharagama.
Kirivehera stupa
Kirivehera is an ancient stupa situated in Kataragama. According to the ancient chronicles Kirivehera has built by King Mahasena.
He was a regional ruler of the Kataragama area. The stupa is 95 feet high and its circumference is 280 feet. It is located 800 meters north of Ryhunu maha Kataragama devalaya.
Kataragama Bo Tree
Kataragama Bo tree is situated behind the Kataragama Devalaya. It is one of the eight saplings of Sri Maha Bodi in Anuradhapura. This Bo tree has been planted in the 3rd century.
Kataragama Perahera
The Kataragama Esala maha Perahera is one of the main events of the Kataragama Devalaya. It is held in Esala full moon poya day and Kataragama is crowded during this festival season. The variety of events included the perahera ceremony. Kavadi dance is a very famous one among them.
A large number of people comes to Kataragama during that season. A lot of pilgrims visits this sacred place daily as well. They pay homage to God Kataragama. Before go to this sacred place every person takes a bath from manic reiver. It was a hobbit after a long time.